Program Stories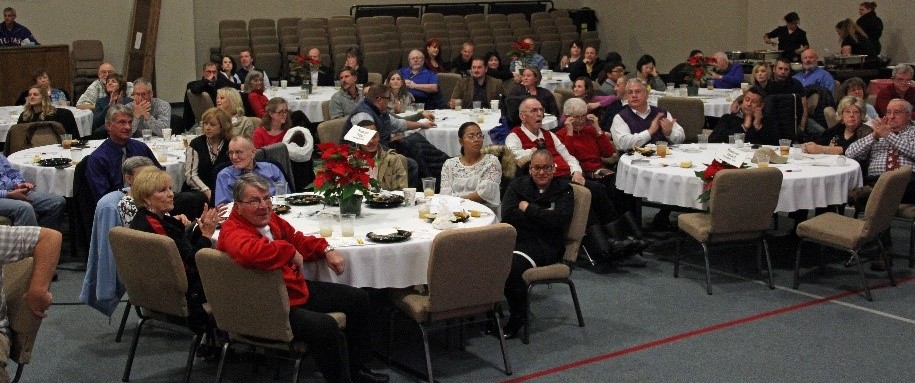 We give all glory to God for the impact our programs are having. He is the one moving in people's hearts. Included here are some recent stories from our missions. If you are considering a program, please know that we would be happy to connect you with others who have hosted us in their churches so that you can hear their perspective on the overall experience.
"David Shaffer and Son Shine Ministries provided an absolutely wonderful, engaging, and fun-filled Marriage in 3-D conference during Valentine's Day weekend for forty-nine couples at our church in Dallas. David's Friday night introductory session provided an entertaining overview and laid the groundwork, building enthusiasm for the three main Saturday sessions (everyone came back!). Our members continue to rave about this event. David's presentations and interaction skills are fantastic. He is wonderfully gifted in his teaching abilities and was able to masterfully focus our church couples on the three dimensions of Christian marriage. The ministry offered by David Shaffer and the Son Shine Ministries team is absolutely wonderful, and I encourage every pastor and church to partner with them to strengthen marriages within their communities of faith. They are a biblically based, God honoring, and marriage strengthening ministry that I and my church will continue to support, partner with, and be strengthened by for the glory of God."

Bert Howard, ThM, Dallas, Texas
"Son Shine Ministries' class opened our hearts to God's plan for parents. We learned practical applications of biblical child-rearing and sharing God's love with our daughter."

Adam & Sara Brady, Parenting: A Biblical Model attendees
"McKinney Church has the distinct privilege of watching the ministry of Son Shine and the Shaffers and Collins as they take part in our marriage and pre-marital classes. Each class has been grateful for the expertise and professionalism that those from Son Shine have shown, but more than that, the Shaffers and Collins have pastoral hearts that are obvious through their presentations. They don't merely relay information from a distance, but spend time visiting and getting to know participants, seeking to speak truth and grace into their lives. This relationship component is so necessary for helping someone on the path to transformation. As a pastor, I can't adequately express my gratefulness to the Lord for having Son Shine Ministries as a partner, and for being able to watch in person their impact in the lives of couples at McKinney. Thank you, Son Shine Ministries, for your labor and service for the cause of the Lord!"

Jay Felker, ThM; Marriage & Family Pastor, Doxology Bible Church, Fort Worth, Texas
"An investment in our marriage was long overdue. As a city council member, school teacher, small business owner, full-time employee, and parents of 6, there were times we wouldn't even see each other apart from saying good morning and good night for several days in a row. The marriage program Son Shine Ministries presented at our church gave us the opportunity to slow down for a weekend and encouraged us to take advantage of more time together. We heard great truths and applicable helps for our marriage and how God wants us to not just survive together but to thrive! Since then we've adjust our lives in ways that have allowed us to focus more on our marriage and our relationship with Jesus Christ."

Chris & Vikki Francis, Marriage in 3-D attendees
"Son Shine Ministries' PREPARE/ENRICH program came to us at a time when our marriage needed a little, um…refresher! David Shaffer and his wife, Daniele, always keep the content fun and fresh and FUNNY! It is a blessing to have their transparency and willingness to share all of their great and not-so-great moments as a married couple. Another added bonus of the program is to get to know other couples in the church better. When someone you have known for years gets up to role play in front of the room, well…it just works! You get a glimpse into the lives of other couples, and it can be humorous, and it can be reflective. My husband and I look forward to the marriage and family programs Son Shine Ministries offers, and we always come away with a renewed spirit."

Kristin Hicks, PREPARE/ENRICH attendee
"The Lord's plan has always been to do his work through the family and the church and PREPARE/ENRICH went a long way in communicating this truth to our families. Thank you, Son Shine Ministries, for your commitment to marriage and family issues, and thank you for your contributions to the Kingdom!"

Larry Lormand, DEdMin; Minister of Education/Administration, Ash Creek Baptist Church, Azle, Texas
"My husband and I attended the marriage program led by our dear friend David Shaffer. It was so informative and fun! We loved being able to interact with other couples of all ages and stages. We were presented with solid biblical truths to help us better communicate and resolve conflict, among many other things. We walked away with a strengthened marriage and an even deeper love for one another. Thanks to Son Shine Ministries for programs that continually point people to Jesus!"

Paula Caston, Marriage Program attendee
"The PREPARE/ENRICH Marriage Program we attended was very beneficial for us especially because we were able to share experiences and strengthen friendships with other couples at our church. I believe my wife, Susan, and I are reaping lasting benefits from participating in the program, and we have already made some (hopefully) lifelong changes in the way we do things as well as the way we talk with each other."

Larry & Susan Marx, PREPARE/ENRICH attendees
"David's presentation style was so refreshing and honest that several participants shared with me that having him as the presenter was a great choice. My pastor's wife shared, 'David's warm spirit made his message easy to receive, and it set the atmosphere for the entire retreat.' Another participant expressed, 'David spoke as if he was part of our family—just easy-going and friendly.' Having Son Shine Ministries serving alongside us during our marriage retreat was a blessing, and many of our members expressed how valuable the information is. One participant mentioned how he will be sharing highlights of the presentation with other couples who could not attend. Another participant noted how he began practicing active listening and assertiveness in his communication that very weekend!"

Bax Baxter, ThM; Assistant Director of Internships, Dallas Theological Seminary, Dallas, Texas
"Marriage in 3-D pulled together how my marriage is founded on my relationship with Christ. The biblical content showed me how I am supposed to relate to God and to my wife. The practical examples of effective communication and conflict resolution helped remind me of what I should be working on in my marriage. My faith was strengthened and my marriage with it."

Philippe Lalonde, Marriage in 3-D attendee
"David Shaffer presented the PREPARE/ENRICH program, and it was a genuine blessing to our church. His caring attitude and thoughtful preparation allowed for open dialogue between couples. It was great seeing couples share their struggles and successes. The curriculum was great, but the way David encouraged interaction and guided our discussion was incredible."

Jay Ditty, MDiv, Senior Pastor, Silver Creek Baptist Church, Azle, Texas
"The PREPARE/ENRICH assessment lets you hear some of the areas that you need to be looking at—an independent evaluation of the areas where you're strong and areas where you might be weak. Seeing our similarities and differences from our assessment allowed us to understand and apply the information while we were in class each week. This class was helpful in making marriages stronger and making the overall church stronger. We think it's vital, and you can't overestimate the importance of strong marriages for a church."

Jay & Christy Helm, PREPARE/ENRICH attendees
"The content of the marriage program is biblically solid, relevant, and practical. It is presented with humor and enthusiasm, and touches people where they are. I can't say enough good things about the team of Son Shine Ministries."

Gerry Lewis, DMin, Director of Missions, Harvest Baptist Association, Decatur, Texas
"The parenting program with Son Shine Ministries was a great tool that allowed me to reflect on and share my own experiences. By attending this class, I was able to understand why I parent the way I do and maybe change some techniques to that of the other parents who shared their experiences. I really enjoyed the program, and the people of Son Shine Ministries are very genuine, and I can always feel the love when I am around them."

Charla Neameyer, Parenting: A Biblical Model attendee
"It wasn't easy taking the PREPARE/ENRICH assessment, but we were honest, and we saw the areas where we need work and where we are strong. It was very helpful to also see each other's assessment and honestly understand where he/she is coming from on some things. It was really neat to see David Shaffer invest the time in us to teach PREPARE/ENRICH. It was definitely beneficial for our own marriage, and we could see that positive things were happening with the other couples in the class."

Ryan & Sarah Pugliano, PREPARE/ENRICH attendees
"Son Shine Ministries has been a vital part of our community for many years. Though their primary ministry is in missions, they have been a rich blessing to the churches of this area and to the community as a whole. David Shaffer is a sincere man of faith who always keeps Jesus Christ first in his life and in his teaching. The material he covers is all Bible based and relevant to the needs of couples in today's culture. Your people will laugh and learn. He is a gifted teacher, and he engages his audience and gets them involved. He is real, and he has a way of leading others to honestly examine themselves and their relationship with Christ and with their spouse."

Glyn Murphy, MDiv, Azle, Texas
"We enjoyed the leadership of David and Daniele during one of their marriage programs at McKinney Memorial Bible Church (in Fort Worth). There were about twenty-five married couples attending, newlyweds to 30 years married. This was a really nice aspect, as it gave each of us a sense of how different couples manage their relationships. Some new and beginning their lives together and others well-seasoned. The common denominator was Jesus Christ. David and Daniele gave many examples of how a Christ-centered marriage looks and feels. In order for any marriage to be successful, Christ must be the focus. We highly recommend this program to all couples, newlyweds, and long-married alike. The time and energy learning and applying the principles of building a Christ-centered marriage will be well spent, and the benefits will last a lifetime!"

Sam & Vicki Parish, Marriage Program attendees
"David and the Son Shine staff presented their marriage enrichment program to First Baptist Church of Lakeside, Texas. What a wonderful time we had at the Sunday evening sessions each week! David was assisted by his wife, Daniele, and Paul and Amy Collins. I was excited to see the diversity of folks in attendance—all age groups and walks of life seeking God's guidance. David was always encouraging, positive, and challenging to the group. He was always ready to respond to the many questions with an answer that let us know that he loved the Lord Jesus. He used Scripture while providing help to those who sought a scriptural reference. The sessions were interspersed with humor and a few personal situations; we always felt David had a good command of the material. The assessment instrument was given to the participants, and the interactive time we all had in the sessions led to many discussions at the tables where each four - six person group sat. I encourage anyone who has not been through a PREPARE/ENRICH program to contact Son Shine Ministries and set up a program. God blessed us, and he will bless you."

Rouel Rothenberger, PREPARE/ENRICH attendee
Your Story
Why not host a program at your church or chapel, joining those whose families have been strengthened through relational principles from God's Word? To inquire and/or request a program, please proceed to our "Next Steps" page.